Dual Immersion
Willowbrook is proud to introduce the Dual Immersion Program for children ages three to five years old. Established in 2002, WIS expanded to include three bilingual classes Take (Bamboo) / Takenoko (Bamboo Shoots) , Matsu (Pine trees) / Matsubokkuri (Pinecones) and Sakura (Cherry Blossom) / Sakuranbo (Cherry).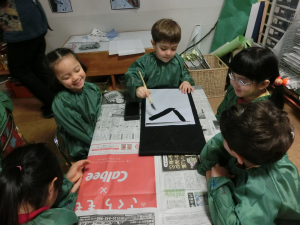 Also in August 2006, we started a Dual Immersion Class for ages 2-3. This class is offered as a two, three or five day course, as these children are still too young to require 5 days attendance. This class uses two languages each day. Students are taught in English from arrival time until mid morning, and then are taught all afternoon entirely in Japanese.
Bilingual and immersion programs are growing rapidly worldwide due to changing global demands, multi-lingual/ multi-cultural families, and the interest of monolingual families who would like their child to learn a second language. With the rapid growth of programs that cater to bi/ multi-lingualism, there exists several immersion education models. Willowbrook's Dual Immersion Program believes in a curriculum that is taught in English half of the week and in Japanese the other half. This means that Japanese and English are used as the medium of instruction, and not taught as separate subjects. There are many factors that make this program effective: environment, resources, teachers, and parental support.
Environment:
The environment is very important in this immersion program. The teachers prepare the room every morning depending on the language taught that day. The language in which students are instructed alternates daily with half-day on Fridays where instruction is in both English and Japanese. On a Japanese instruction day, your student is immersed in Japanese language and surrounded by Japanese toys, books, materials, speakers, etc. The environment lays the foundation for maximum learning.
Resources and Materials:
Preparation of resources and materials are an integral part of creating an ideal learning environment. Our resources have all been prepared to support the bilingual program. Books are translated in both English and Japanese; materials are labeled appropriately on alternating instruction days; and supplies are also carefully chosen according to language and culture.
Teachers:
This program consists of two lead teachers, a native Japanese speaker and a native English speaker, who alternately take the lead on their language instruction day. The teachers in the Dual Immersion Program are experienced professionals and are devoted to continuous education in this growing field. In addition to lead teachers, each class may have a teacher's aide. The number of aides is dependent upon the teacher student ratio for each age level, 1:4 ratio for ages 2-3 and 1:6 ratio for ages 3-5.
Parental Support:
This program more than any, requires parental support and dedication. It is essential that students have language support at home in order to develop their first language along with their second (or third, or fourth) language. As language and communication is an integral part of other areas of cognition and learning, parents need to be aware that extra support is needed if you decide the Dual Immersion Program is right for your child.
FAQS - FREQUENTLY ASKED QUESTIONS AB
Why is bilingual education good for children?
In the Dual Immersion Program we teach with the philosophy of Willowbrook's monolingual program with a focus on language. There are many advantages to a dual immersion curriculum. Exposure to two languages can help your child:
:: Have a high self-esteem and positive self-image
:: Be proud of their own culture
:: Be open minded and understanding about other cultures
:: Be more flexible in the future
:: Be a balanced bilingual
:: Understand and participate in activities in two languages
Bilingual education can open avenues for the children's future. Exposure to a second language and culture allows multiple ways of thinking, feeling and reacting to situations and experiences.
What will my child do at school?
Although language acquisition is an integral part of the curriculum, the Dual Immersion Program also focuses on the important elements of early childhood development, such as developing strong social skills, challenging cognitive skills and growth of emotional intelligence. In order to foster these areas of development, we provide the following activities:
:: Art
:: Imaginative Play and Blocks
:: Music and Movement
:: Math
:: Science
:: Creative Dramatics
:: Cooking
Willowbrook's teaching practice is child centered, developmentally appropriate and hands-on.
The school day is similar to the regular program, and is a Monday to Friday, five day program. Students arrive at Willowbrook at 8:15am and dismissal is at 2:00pm. Throughout the day the children have learning centers, outdoor play, project time, journal writing, reading time and lunch. During these important learning times, the children are showered with the language of the day, and are encouraged to communicate in that language. Moreover, subject matter and content are reviewed and supported in both languages throughout the week. Your child will be exposed to new material in a new language, but not overwhelmed.
How do I enroll my child?
Please come to Willowbrook with your child and visit the Dual Immersion classes. We are more than happy to have you as a special guest. After visiting the school and talking to the director, you may fill out an application form. There are limited spots available in the dual immersion classes. Due to the special nature of this program, students will undergo an observational period to affirm their age appropriateness in all areas of development.