Curriculum Development
When Willowbrook opened in 1998, we designed our curriculum based on the research of Jean Piaget, Erik Erikson, Howard Gardner and similar researchers who value play and creativity in early childhood.
Beginning in 2002, we built upon our existing program and began to implement an inquiry based curriculum in our older classes.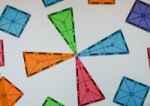 Depending on your previous educational experience, an inquiry based curriculum inspired by the philosophies of an education style similar to Reggio Emilia could look quite different from the traditional idea of a classroom. The teacher is not the source of all knowledge. Instead, the teacher takes the role of facilitator, encouraging children to explore, research and study. In this way, children are allowed to create their own knowledge in a way that is most powerful and meaningful to them.
Projects at Willowbrook are collaborative efforts inspired by the ideas the children bring up in their everyday play and enhanced by dialog and guidance from teachers. Through careful observation of their interactions with each other and with the environment, teachers begin to collect ideas for possible projects. Once they have done this, the teachers will sit with the class as a group and discuss which projects they would like to pursue and how to begin. An ongoing dialog between teachers and students develops into a working topic for further study.
While the teacher may have some idea where the project will go, he or she must allow the children to create these pathways of learning for themselves.
In researching their chosen topics, children may take field trips or have professionals come into the classrooms and speak to them. A class with an interest in building may have an architect come to their class; a group of children interested in food could visit a farmer, a grocer or a chef. In this way, the children's learning is integrated with the community around them.
Once a project is decided upon, it is then up to the teachers to find ways to integrate all areas of academic study into that project.
Our Dual Immersion program follows similar curriculum goals, but has a broader focus on language. Children are immersed in both Japanese and English on alternate days. In the case of our program for 2-3 year olds, English is taught in the morning, switching to Japanese halfway through the day.
Both programs have academic advantages, and can prepare your child for kindergarten. We will discuss which class is right for your child when you visit our school.
Above all we believe in each child's ability. Often adults tend to impose limits or set boundaries because of a child's age or size. There is a tendency be too over protective or perceive their youth as weakness. Our role as educators is to start with a positive and optimistic mindset around the capabilities of each child. Each child deserves to be respected for where they are at, so that their world is full of possibility. As teachers, we listen, observe, dialog, inspire and facilitate the learning experience.
Willowbrook's Curriculum Objectives
- Careful observation and recording by teaching staff
- Inquiry based learning where children's interest dictates theme
- Guided in-depth investigation of real world topics
- Skill based knowledge of math, science and literacy
- Increased student involvement
- Meeting WIS developmental milestones (Social/Emotional, Self Help, Cognitive, Language, Fine/Gross Motor Skills)
Creative Arts Program Curriculum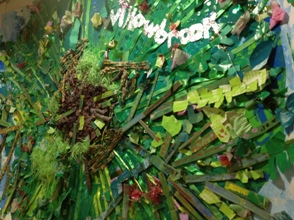 In a Reggio Emilia inspired way, art is merely the medium through which we advance thinking and explore the children's creativity. Given the young age of our students, as early as 15 months old, we utilize their interest level and attention span to engage in and attend to an activity. Art is incorporated seamlessly into the everyday classroom curriculum facilitated by our innovative teaching staff.
We have purposefully designed our spacious Atelier (or art studio) to be a pleasing environment. Our shelves are lined with clear plastic containers with a variety of natural (seed pods, stones, wood chips, etc) and recycled (glass beads, buttons, bottle tops, etc) materials. We value the intrinsic nature each child's creative and artistic ability.
Our Atelier reflects an active and ongoing engagement in our work. Materials are carefully chosen for each project and are often prepared and set out for the next day. There are many "works in progress" around the room due to our focus on projects that are completed incrementally. By invoking a consistent effort in children at an early age, projects completed in stages often yield a grander scale endeavor and therefore a more valuable experience.
In our "project approach" to art, working with our dedicated Art Teacher, students often begin an art activity at the start of the week and add the finishing touches on the last day of that same week or a week later. Each day, students employ a different medium adding elemental depth and texture. For example, the first day may start with a pencil drawing and then on subsequent days add marker, paint, tissue paper, cellophane, seeds, sticks, grass, leaves, dried flowers, etc. All are layered to reveal a multi-media 3-D effect. Art is an exploration of sensory experience. Early learners benefit from tactile touch so we try to use materials that are fundamentally textural.
Students can also expect to enjoy many forms of art. In addition to drawing, we also may incorporate dramatics, dance and science. For example the lights are turned down and using a projector, we engage in dramatic shadow play. The students pretend to be an animal of their choice, moving to explore their shape in shadow. They become the animal in dramatic play and then draw the animal in action.
Cultural art is initiated around seasonal holidays such as Shichigosan (coming of age for 7-5-3 year old children), Hinamatsuri (doll festival) and Kodomo-no-hi (children's day).